Meet the Japanese Speech Contest Winners – Laura Onciu
04/10/2016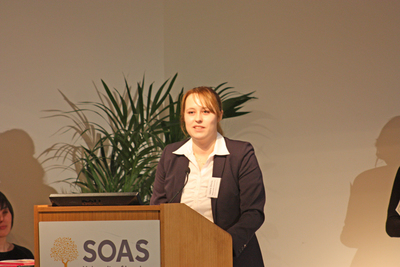 In this series of mini interviews, we'd like to introduce previous winners of the Japanese Speech Contest for University Students, and catch up on how things have been going with them since winning the contest...
Laura Onciu
Speech Category First Prize Winner, 11th Speech Contest (2016)
University: Newcastle University
Speech Title: Norms that create reverse discrimination - Adverse effects of conventional wisdom in Japan.
What did it feel like to take part in the contest and win First Prize?
"This was the second time I took part in the Speech Contest, the first being in 2014 when I won 2nd prize in the Individual Category, so I was much more relaxed about it. I had decided to enjoy it, rather than worry about winning, and to be honest, it never even crossed my mind that I would win First Prize! I believe it is quite easy to tell that from the face I made when my name was called. I was extremely happy when I won however, as this meant I could return to Japan sooner than I had expected."
Your prizes included a free return plane ticket to Japan from JAL, didn't it? Have you used it yet?
"I went to Japan in August, almost a year after my exchange there ended. It was great to be able to return and meet all my friends."
What was it like flying with JAL?
"When I boarded the JAL plane in London, it felt as if I was already in Japan. Impeccable service, plane looked completely new and the cabin assistants were among the nicest I ever flew with. It made my flight experience so much better, and that was very important because it was a long haul flight. In addition to this, I was very excited to find out that the JAL entertainment system had loaded some of the Japanese films I wanted to watch, such as the 20th Conan movie or the 2nd Ansatsu Kyoshitsu one. Not going to the cinema most of the time means 6-8 month wait for the DVDs to be released, so being able to watch them on the plane took my mind off the long flight time. All in all, what I can say is that, if I ever have to fly to Japan again, JAL will be the obvious choice."
So what did you do in Japan?
"I went to Tokyo and spent most of my time there, but thanks to the JR Pass I received, I was able to travel throughout Japan! When I lived in Japan, I did travel, but there were and still are many place I wanted to visit. This time, I went to Nagoya, Ise, Kanazawa, Aomori, Hakodate and Izu. I went to the Ise Jinguu, toured the Ninja Temple in Kanazawa, drank apple cider in Aomori, enjoyed Hakodate's 1 million dollar night view and drove by the ocean in Izu! It was by far the best trip ever."
What things did you most enjoy?
"First of all, I loved being back in Japan. The perfect service, the amazing food, the sights, but most importantly my dear friends there.
Something that got my attention this time was a small hostel in Hakodate – Oyado Aozora – which had a sky mural on the ceiling. I love the sky so it was a nice surprise. Plus, the lady in charge was also very nice so I had a great time! Hakodate is definitely at the top of my what-to-visit recommendation list."
What are you doing now? What plans do you have for the future, and will they involve Japanese?
"Right now, I am back at Newcastle for my last year of bachelors. My plans for the future most certainly include Japan and the use of Japanese. I will hopefully be back in Japan soon, and who knows, maybe watch the Tokyo Olympics live!"
Do you have any words of encouragement or advice for students studying Japanese? And would you encourage other students to enter the contest?
"Work on your practical Japanese skills! Exams are important, but they are useless if you can't actually use it. Do participate in the speech contest! Thanks to taking part in the Speech Contest, I can now talk in front of people without stressing out (not so much at least!). It is a very useful experience, and working hard to get there improves your Japanese more than studying for a test does. And also, you might win and get to tour Japan! There is literally nobody in the world that has never wished for that!"
We'd like to thank Laura for taking the time to catch up with us, and we wish her the best of luck in her final year at university. 頑張ってください!
You can read a full report from the 10th University Speech Contest here.
Why not try yourself?! Applications for the Twelfth Speech Contest are now open – find out more and apply here.
The return flight to Japan was generously provided by Japan Airlines and the JR Rail Pass by Central Japan Railway Company.